5 Fashionable Ways To Shower Love On Mother's Day
'Owe' is a very complicated word when we talk about mothers. They do everything and still, you owe nothing because 'giving back' is not that simple in that case. Do you wish to say thank you in a special way?
Do you wish to show her that you care? Of course!
She doesn't spare a time or pence for herself because she keeps herself busy in making your life beautiful. This time, show her that you have learnt the same thing from her. Catch out this thoughtful gift list and gift her all the trends' fashionable women dresses to make her every visit, appearance and tour spectacular than ever. Buy online mother gifts and deliver it secretly as 'secret Santa' at any time of the year.
Sarees Gowns For House-Warming Sessions
Be inspired by this and get the gorgeous saree gown today for your gorgeous mother. Saree gowns come as the top online mother day gifts as they can wear them on special occasions as well as housewarming parties. Avoid peppily or being too loud when selecting and go for chiffon, chambray or georgette saree gowns that will drape at every curve beautifully. Avoid too many embellishments and heavy zari work because it has to be comfortable enough to carry as well.
Indo Western Kurtis For Secret Hangouts
Indo westerns are the season's best dish on fashion platter and every fashion talk is just incomplete without its inclusion. Choose the best Indo western kurti for your mom and mind the fabric type while selecting. The calf-length kurti will add length and grandeur to her appearance; so make sure you have a perfect pick in your cart.
Jacket Lehengas For Wedding Days
Jacket lehengas are just perfect for the principal moms. Is your mom a headmistress?
Well, buy gifts for mom in the form of jacket lehengas as they showcase the grandeur, luxe and boldness of the wearer's personality. A pearl necklace and potli or folded clutch will be enough for any occasion.
Designer Kurtis For Family Times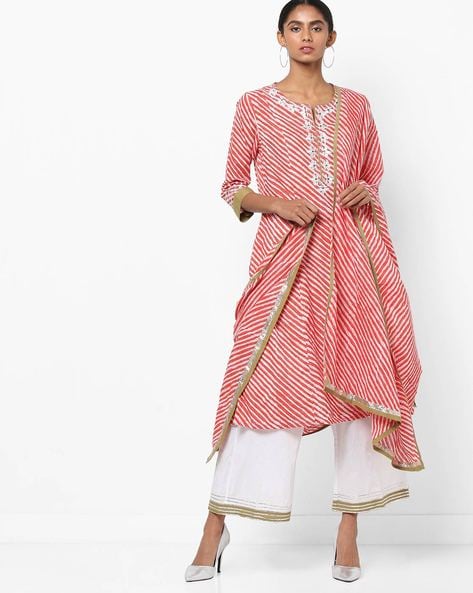 Thanks to the designers and their exhausting creations of designer Kurtis for women. From high Kurtis to A-line Kurtis, the market is overwhelming with an assorted range of Kurtis online. Choose a kurti according to the size and shape of the wearer and mind the fabric as well.
For instance, if the wearer is plump then you should opt for A-line kurti or Frock style kurti which will perfectly hide extra curves while making her look tall.
Order right pair for the kurti as well. Well, the best and comfortable pick will be ankle length traditional palazzos.
Plain Anarkalis For Special Visits
Anarkalis are the love of every woman of every age. Isn't it?
Be it your mother, grandmother or some distant relative in your family, Anarkali is a definite inclusion in their special wardrobe which is popped up for the special occasions. In your 'buy gifts for mom' list, a designer Banarasi silk Anarkali is a must have to pamper her old yet dear love for fashion.
So, the process is, just buy online mother gifts, fill delivery address and wait for it to be delivered to the doorstep. Let her receive that and when she does that. Make sure you're not around there yet witnessing her transformation of emotions.