4 Amazing Designer Blouse Ideas For Plain Sarees
If you think that plain sarees are boring and non-stylish, then you need to style them the right way. Plain sarees have been in our fashion for ages, but probably not explored in the right way as yet. But, modern designers have experimented and worked with plain saree and given up amazing designs and styles.
Even our celebrities have popularized plain sarees. From cotton to Satin and Silk, plain sarees can be styled in different ways with designer blouses, extravagant accessories and amazing jewellery. Plain sarees can be matched with similar or contrasting blouses to bring out a new style. Plain sarees make you look elegant, stylish and trendy if worn in the right way.
Plain sarees can also be of different types likes cotton saree with or without border, plain silk saree or Satin sarees. Net sarees can also be paired and they look beautiful and sensual when paired with the right designer blouse. You can buy amazing plain sarees online at discounted prices. Even look alike sarees like what celebrities have worn are available online at affordable prices.
Today, we will talk about a few designer blouse ideas that look amazing with plain sarees. These designer blouses are heavily embroidered and embellished to complement the simplicity of a plain saree. Designer blouses can be paired with other simple sarees as well, because of they so extremely gorgeous in themselves. You can do something creative and innovative too with these designer blouses. You can turn some of them into designer gowns. Won't that be exciting?
You can stitch and add the lower part of the gown to the embroidered blouse and turn it into a designer gown, sometimes with an Indo-western look. You can also buy nice designer gowns online from good apparel portals.
Here are a few such designer blouse ideas to look out for to be worn with plain sarees.
Sequined Tube Top Blouse
: Tube top blouses are tight at the bust and abdominal area to give you a push-up. This adds to your hot look and oomph factor. You can also style it with a cape in case you are uncomfortable.
Embroidered Corset Blouse
: These Victorian style corset blouses are perfect for fashionistas and beautifully adorns your curves. These blouses look magnificent in themselves and can be paired with simple plain sarees.
Contrasting Colour Blouse:
Pairing a different coloured blouse with a plain saree looks elegant and stylish at the same time. You can choose pop colours according to your mood and opt for either full or half sleeve blouses. You can drape your saree with a front pallu with these blouses and accessorize properly.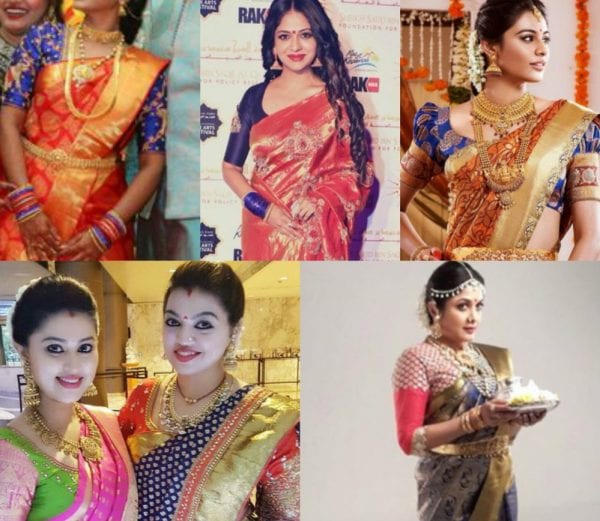 Shirt style Blouse:
These look trendy and adds a style quotient to the wearer's look. You can DIY with your old shirts. You can also opt for quirkily printed blouses or statement blouses with abstract designs.
You can also opt for embellished sheer blouses, lacy blouses or front single hook blouse for a bolder look. Get creative with designer blouse ideas for your plain sarees and be an eye-turner in the crowd.